Custom Cabinets and Other Casework
Meld
This simple Shaker-inspired wall cabinet is a melding of styles and periods of furniture. Its geometric proportions and prominent design details are purely Shaker, such as the classic profile of the top edge, and the unmistakable Shaker raised panel door.
It's through-mortise and tenon shelf joinery, and proud dovetails, are reminiscent of classic Craftsman style pieces.
Representing the modern era of furniture design are some small surprises you can discover for yourself - including the interchangeable decor panels in the cabinet, and the method of opening the drawers.
It is made from Quarter sawn cherry with Anigre veneer on the inside of the cabinet back. It is finished with hand-buffed wax over shellac and linseed oil. The cabinet is 16" wide x 32" high x 10" deep.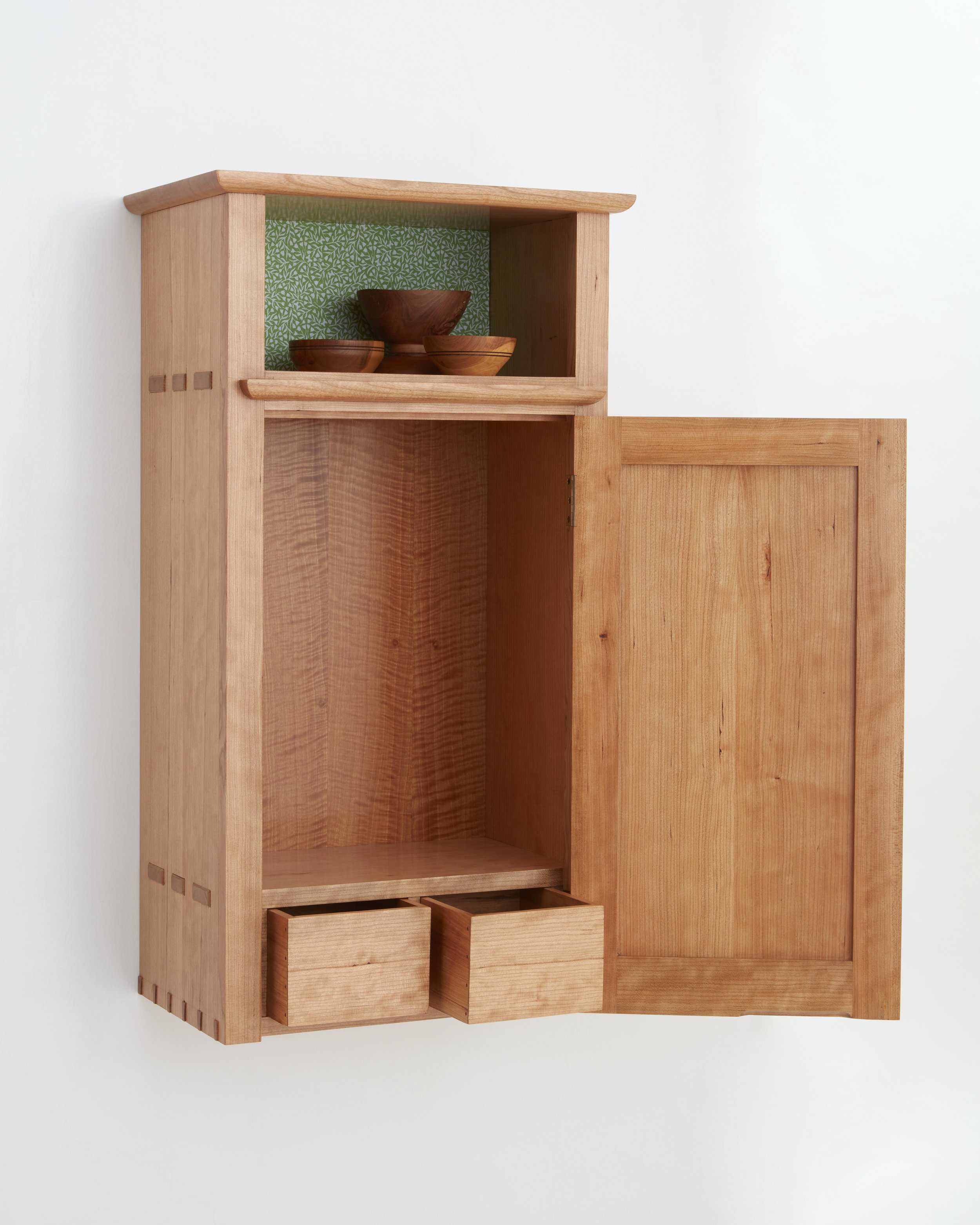 ✜✜✜✜✜✜✜✜✜✜✜✜✜✜✜✜✜✜✜✜✜✜✜✜✜✜✜✜✜✜✜✜✜✜✜✜✜✜✜✜✜✜✜✜✜✜✜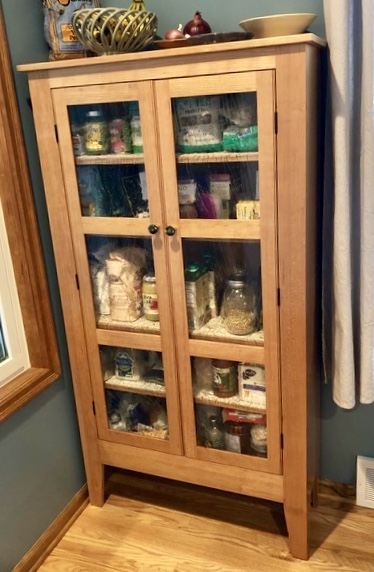 Free-Standing Pantry
I built this for a client who needed a pantry for her newly remodeled kitchen. It needed to be a specific size to fit in the corner of the room between two windows. She wanted something like a pie safe, but nothing that dated looking.
After a couple discussions, and several sketches, we decided on this. It's a solid cherry piece, designed in the Shaker style. She wanted glass doors, but not just any glass. We selected a designer glass with some subtle ripples and defects. The four shelves are adjustable.
It was finished off with a pair of enameled door pulls she had received from a relative.
✜✜✜✜✜✜✜✜✜✜✜✜✜✜✜✜✜✜✜✜✜✜✜✜✜✜✜✜✜✜✜✜✜✜✜✜✜✜✜✜✜✜✜✜✜✜✜
21st Century Shaker Sewing Desk
This contemporary rendition of the classic Shaker sewing desk is making its way to a new home in Arizona, where it will be used for various knitting and other sewing tasks.
It has the same overall dimensions as its circa 1880 Shaker cousin, found below on this web site – 38" tall, 28" wide, by 19" deep. Its drawer configuration was changed from the original to meet the needs of the client. Unlike the original Shaker version, the flat panels were replaced with much more contemporary raised panels, which contain decorative profiles on both the panel frames and the fields – something the Shakers would have never done, as they did not believe in unnecessary decoration.
The piece was hand-built with a solid hard maple frame and solid maple panels. The drawer boxes are built from white pine, utilizing hand-cut dovetails on all corners. It is finished in a durable polyurethane.
✜✜✜✜✜✜✜✜✜✜✜✜✜✜✜✜✜✜✜✜✜✜✜✜✜✜✜✜✜✜✜✜✜✜✜✜✜✜✜✜✜✜✜✜✜✜✜
Shaker Chimney Cupboard
This piece was featured in the Gallery section of the February 2017 issue of Fine Woodworking Magazine.
In addition to being a highly functional piece of fine furniture for a small space, this Cherry and Pine Chimney Cupboard is a study in the key design elements of late period Shaker furniture.
This tall (73" high), graceful cupboard is 16" wide and 12" deep. It is made of solid Cherry, with Pine used for the drawer boxes and back, and will fit perfectly into a tidy corner of the kitchen or bathroom. Its 3 drawers will store many small items, and the adjustable shelves inside give it great flexibility.
The most prominent features of this cupboard are the flat panel doors and the frame and panel back. The use of classic, refined, Shaker knobs is an unmistakable mark of this traditional style of furniture. The door latches, which require a simple clockwise twist to unlatch, are classic Shaker. The understated design of the crown molding at the top was used to give Shaker pieces the feeling of reaching to the heavens.
Less often recognized details are the proportions used in Shaker case pieces. There are simple geometric proportions that dominate the design of Shaker casework. These are the ratios of 1:1, 1:2, 1:3, 2:3 and 3:4 - all prominent in this piece. Even the placement of the knobs on the doors and drawers conforms to these common proportions.
✜✜✜✜✜✜✜✜✜✜✜✜✜✜✜✜✜✜✜✜✜✜✜✜✜✜✜✜✜✜✜✜✜✜✜✜✜✜✜✜✜✜✜✜✜✜✜
Shaker Sister's Sewing Desk
Crafted by hand, this Shaker Sister's Sewing Desk was carefully reproduced from drawings created by Ejner Handberg, a 20th century builder and cabinet maker from Massachusetts. This circa 1880 Shaker sewing desk is made of the same materials available to the Shakers of New England, and incorporates traditional joinery used in Shaker furniture of this period.
This reproduction of a piece in the collection of The Shaker Museum at Old Chatham, New York was built as a work station for a Shaker Sister serving as a seamstress in her community.
Shaker furniture is noted for its simple, elegant style and utilitarian purpose - clearly demonstrated in the turned bottoms of the legs, the inviting curves of the elegant knobs, and the shear utility of the design providing ready access to all the needs of a Shaker seamstress.
Let me hand-build a custom piece of Shaker furniture for you.
✜✜✜✜✜✜✜✜✜✜✜✜✜✜✜✜✜✜✜✜✜✜✜✜✜✜✜✜✜✜✜✜✜✜✜✜✜✜✜✜✜✜✜✜✜✜✜
Glass Door Quilt Cupboard
This custom quilt cupboard (34"W x 22"D x 76"H) was made for a client to fit precisely in a specific location in their home. They described the features they wanted - doors and drawers - and the style in which they wanted it built. The style was to match an existing piece in their home.
I made it with hand-cut details, and custom hand-scraped moldings to match the existing piece. The large drawers glide effortlessly on a hardwood center guide system - even when full of quilts!
Although not apparent in this photograph, the glass in the doors is new "old" glass. It is rippled like glass that is a hundred years old. It gives a charming appearance to the quilts folded inside on display.
It is made of solid cherry and cherry veneered furniture-grade plywood, and finished with durable polyurethane.
✜✜✜✜✜✜✜✜✜✜✜✜✜✜✜✜✜✜✜✜✜✜✜✜✜✜✜✜✜✜✜✜✜✜✜✜✜✜✜✜✜✜✜✜✜✜✜
Arts and Crafts Bedside Table
This is the same table that I designed to complement the bed in the previous photo. it also appears in the "Table" gallery on this site. It is included here because it represents the fine points of hand-built fine casework.
✜✜✜✜✜✜✜✜✜✜✜✜✜✜✜✜✜✜✜✜✜✜✜✜✜✜✜✜✜✜✜✜✜✜✜✜✜✜✜✜✜✜✜✜✜✜✜
Cherry Occasional Entertainment Table
This is the same occasional table that appears in the "Table" gallery on this site. It is included here because it represents the fine points of hand-built fine casework.
✜✜✜✜✜✜✜✜✜✜✜✜✜✜✜✜✜✜✜✜✜✜✜✜✜✜✜✜✜✜✜✜✜✜✜✜✜✜✜✜✜✜✜✜✜✜✜
Arts and Crafts Cherry and Maple Queen Bed
This Arts and Crafts style bed was built for a client who saw a similar design in a furniture store. It is queen size.
It is made from solid cherry and maple. It is frame and panel construction. It is a very solid bed. It does not utilize a separate steel frame to support the mattress. The head and foot boards are very solidly connected with a hidden bed bolt system so the bed can be easily disassembled for moving.
To establish the largest contrast possible between the dark cherry and the light maple, it is finished with a water-based acrylic resin varnish that dries clear.
The bed is personalized with the initial of the owners done in marquetry on the cap of each bed post.
✜✜✜✜✜✜✜✜✜✜✜✜✜✜✜✜✜✜✜✜✜✜✜✜✜✜✜✜✜✜✜✜✜✜✜✜✜✜✜✜✜✜✜✜✜✜✜
Fine Tools Chest
This small chest (24"W x 12"D x 18"H) is where I store my fine measuring tools. It sits on a cabinet directly behind my workbench, within easy reach while I'm working.
It is made from solid American cherry and cherry veneered hardwood plywood. The drawers are maple with dovetailed joints.
The front is decorated with a small marquetry inlay depicted a pair of maple "helicopter" leaves ready to drop off a tree. These are joined by a pair of marquetry maple leaves on the top of the lid.
The drawer pulls, and a handle on each side of the chest, are hand made cherry.
✜✜✜✜✜✜✜✜✜✜✜✜✜✜✜✜✜✜✜✜✜✜✜✜✜✜✜✜✜✜✜✜✜✜✜✜✜✜✜✜✜✜✜✜✜✜✜